Nix and Turner contribute to encyclopedia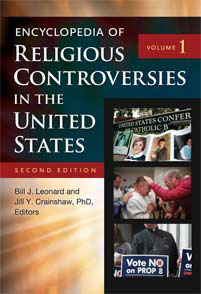 Furman University religion professors Echol Nix, Jr. and Helen Lee Turner have contributed to a two-volume encyclopedia that covers major controversial leaders, events, ideas, institutions, groups, books and a variety of topics in American religious life.
Encyclopedia of Religious Controversies in the United States, 2nd Edition (2013) is edited by Bill J. Leonard and Jill Y. Crainshaw, Ph.D., both of Wake Forest University. The encyclopedia is published by ABC-CLIO.
An updated publication, the encyclopedia includes many new entries that reflect 21st century religious controversies. As a reference tool for scholars, students, and anyone interested in religion, the publication includes bibliographies for each entry that direct readers to additional resources for further study. Also, a section of primary document excerpts gives greater perspective on a number of religious issues.
Nix joined the Furman faculty as a full-time member in 2007. He holds degrees from Morehouse College (B.A.), Vanderbilt (M.Div.) and Boston University (Ph.D.).
This year marks Turner's 30th year as a Furman faculty member. She holds degrees from Wake Forest University (B.A.), Vanderbilt University (M.Div., D.Min.) and University of Virginia (Ph.D.).
For more information about Encyclopedia of Religious Controversies in the United States, follow this link, or contact Furman's News and Media Relations office at 864-294-3107.
Contact Us
Clinton Colmenares
News & Media Relations Director