Henderson photo exhibit explores historic school buildings
OCTOBER 21, 2011
By Erikah Haavie, Contributing Writer
They were buildings for learning about textiles, cosmetology, and w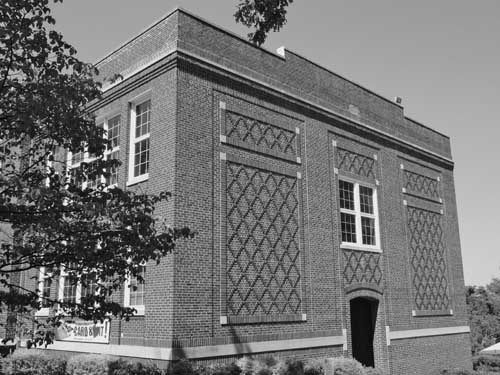 oodworking. They were buildings used for canning and curing sweet potatoes. They were buildings where lunchtime meant bringing one's own bowl and spoon.
A new photography exhibit by Professor of Education  A. Scott Henderson, now on display in Hipp Hall, takes a look at Greenville County's historic school buildings, some almost 100 years old.
The collection of black and white photographs entitled, "Once Upon a Blackboard," shows what happened to these former hubs of education and community life. Some have been restored and enjoyed rebirths as schools, community centers or businesses. Others tell more somber stories as they sit vacant, crumbling, and neglected.
Henderson attended graduate school in Buffalo, N.Y., which allowed him to blend his love of photography and architecture as he captured images of buildings designed by Frank Lloyd Wright, Louis Sullivan, and Henry Richardson.
As Henderson meandered through some of Greenville's historic neighborhoods over the past decade, he found new subjects for his work and was particularly fascinated by the old school buildings he discovered.
"They tell stories about times and eras that are gone, things that we can no longer recapture," he said.
Henderson began his research into locating the old schools, enlisting the help of electronic resources, colleagues, and friends. He talked to people who worked or lived or studied in the actual buildings, what Henderson described as "the most gratifying aspect of this project."
He also traveled, driving to school sites as many as six times over the past six months to capture the right lighting and composition. The result is an unembellished exhibit that allows the schools' aesthetic beauty to shine.
The 22 Greenville County buildings on display include Westville High School, now Westville Memorial Funeral Home; Hayne School, currently S.C. Telco Federal Credit Union; Athens Elementary School, now Spring Brook Behavioral Health System; and Stone Avenue School, currently part of Earle Street Baptist Church.
A select few buildings have been renovated and continue to operate as schools. Hattie Duckett School and Parker Middle School were renovated and presently serve the Legacy Charter Schools. The former Taylors Elementary and High school currently houses the Greenville Theological Seminary and The Academy of the Arts.
Whether actively in use or not, Henderson said he felt it was important to recognize the schools as important parts of the county's historical and cultural heritage.
"We should preserve them whenever possible, and memorialize them when we cannot," he said. "My hope is that these images will continue to spark conversations, even after the schools are gone."
An informal reception is planned for Homecoming Weekend. Photos may be viewed daily from 9 a.m.-5 p.m. at Hipp Hall's first-floor gallery or viewed online at the Furman University Education Department page at www.facebook.com. For more information or directions, call (864) 294-3083 or e-mail erikah.haavie@furman.edu
Contact Us
Clinton Colmenares
News & Media Relations Director