Another 'sellout' for Lessons and Carols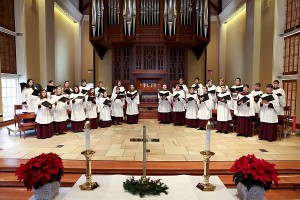 For some, the hustle and bustle of Black Friday marks the official start of the holiday season. But for many in the Greenville community, it's Furman's annual Festival of Lessons and Carols that signals the advent of the Christmas season.
Now celebrating its 19th year, the tradition continues Sunday, Dec. 15 with two services at 3 and 5 p.m. in Daniel Chapel.
While the performances are free, tickets are issued to control limited seating in the Chapel. And ticket supplies are always depleted within a few short weeks of becoming available.
But there is still hope to secure tickets to this year's shows.  Fifteen minutes prior to each service, no-show seats are opened up.  And if you're willing to bank on an average no-show rate of 15 percent, then you might be able get a seat.
One of the most highly anticipated musical events of the year, the Festival of Lessons and Carols draws more than 350 people per service – all to participate in what some have described as "magical."
At the core of the magic is the 33-member Chamber Choir. Chosen by audition and rewarded handsomely with scholarships, choir members represent the best of the best vocalists at Furman. Each capable of dramatic solo singing, the choristers' commitment to beauty and unity forges a remarkably rich range and quality of sound.
Amid the warm glow of a candlelit sanctuary, the ensemble, directed by William Thomas, is joined by the congregation, harpists, the magnificent Hartness Organ, guitar, flute and a marimba, no less. The nine intermittent scripture "lessons" are offered by Furman students and faculty members, and punctuate the ancient, contemporary and traditional choral music.
For more information, contact the Furman Music Department at 864-294-2086.
Contact Us
Clinton Colmenares
News & Media Relations Director