Upcountry History Museum Presents: "To the Moon: Snoopy Soars with NASA"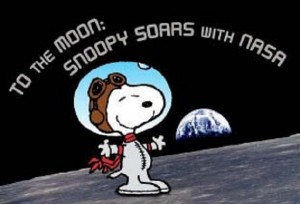 An exhibit commemorating NASA's Apollo 10 mission and the role of Charles M. Schulz's Peanuts characters is on display now through Dec. 29 at the Upcountry History Museum–Furman University.
"To the Moon: Snoopy Soars with NASA" looks at the 1969 Apollo 10 mission and how the Peanuts characters Charlie Brown and Snoopy were used in the mission and in the NASA Manned Flight Awareness safety program.
"To the Moon: Snoopy Soars with NASA" is organized and toured by the Charles M. Schulz Museum and Research Center of Santa Rosa, Calif.  The exhibit is sponsored locally by The Graham Foundation and The Greenville News.
Just before the first man landed on the moon, Peanuts characters soared through space with NASA's Apollo 10 mission in May 1969 after the crew chose to nickname their command and lunar modules Charlie Brown and Snoopy, respectively. Apollo 10 was the "dress rehearsal" for the lunar landing that was scheduled for July 1969. Astronauts Thomas Stafford and Eugene Cernan piloted "Snoopy" within 50,000 feet of the lunar surface as they scouted the landing area for Apollo 11, while John Young orbited the moon in command module "Charlie Brown."
Charles Schulz's involvement with NASA started a year earlier than the 1969 flight of Apollo 10 when NASA requested to use Snoopy as their safety mascot. The Silver Snoopy Award program was instituted to improve the safety record of NASA employees and contractors—a program that proved to be a huge success. More than 40 years later, Snoopy remains in his role as NASA's safety mascot.
In "To the Moon: Snoopy Soars with NASA," visitors will see Snoopy's trip to the moon in the March 1969 Peanuts comic strip series, learn about NASA's Silver Snoopy Award program, and view a Silver Snoopy pin that was flown to the moon. The exhibit also contains a children's creative play space where children can dress up like an astronaut, or have their photograph taken in a life-size Apollo 10 astronaut suit standee.
For more information, contact the Upcountry History Museum – Furman University 864-467-3100.
Contact Us
Clinton Colmenares
News & Media Relations Director