Philosophy professor co-authors new book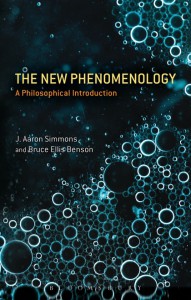 J. Aaron Simmons, assistant professor of philosophy at Furman University, has co-authored a new book, The New Phenomenology: A Philosophical Introduction.
Written with Wheaton College philosophy professor Bruce Ellis Benson and published by Bloomsbury, The New Phenomenology is the first available introduction to the group of philosophers sometimes associated with the so-called 'theological turn' in contemporary French thought. The book argues that there has not been a 'turn' to theology in recent French phenomenology, but instead a philosophical reconsideration of phenomenology itself.
Engaging the foundational works of Emmanuel Levinas and Michel Henry, and later works by Jacques Derrida, Jean-Luc Marion and Jean-Louis Chretien, the book explores how these thinkers offer a coherent philosophical trajectory—the 'new phenomenology.'
Contending that new phenomenology is relevant to a wide range of issues in contemporary philosophy, the book considers the contributions of the new phenomenologists to debates in the philosophy of religion, hermeneutics, ethics and politics.
Dr. Simmons joined the Furman faculty in 2011.  He is also author of God and the Other: Ethics and Politics After the Theological Turn (2011), as well as co-author of Reexamining Deconstruction and Determinate Religion: Toward a Religion with Religion (2012) and Kierkegaard and Levinas: Ethics, Politics, and Religion (2008).
Simmons holds a bachelor's from Lee University, and earned advanced degrees from Florida State University and Vanderbilt University.
For more information about The New Phenomenology, contact Simmons at 864-294-3526 or aaron.simmons@furman.edu, or go to this link. 
Contact Us
Clinton Colmenares
News & Media Relations Director