Fall Festival of Choral Music Oct. 26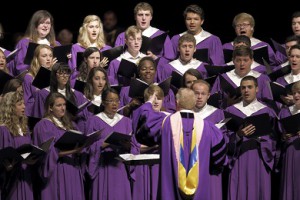 The Furman Fall Festival of Choral Music will close with a concert on Saturday, Oct. 26 at 3 p.m. in McAlister Auditorium on the Furman University campus.
The concert is free and open to the public.
For the festival, singers from selected high school programs in the region are invited to participate with mixed quartets of their finest singers. These groups practice and perform under the baton of Furman Singers director Hugh Ferguson Floyd who leads Saturday's culminating concert with the Singers.
The Furman Singers, accompanied by Grace Odell '16 (Pelzer), will perform traditional hymns and spirituals by Ralph Vaughan Williams, William Byrd, Blake Henson, Mack Wilberg and John Clements, among others. Furman organist Charles Tompkins accompanies selected pieces.
The Furman Fall Festival Choir will be accompanied by Furman music professor Vivian Hamilton. The high school ensembles will perform folk songs and other pieces by Allan Naplan, Eric William Barnum and David N. Childs. Frank Ticheli's "Earth Song" will be performed alongside the Furman Singers.
Floyd is coordinator of choral music at Furman. Prior to his appointment at Furman, he served as director of choral studies at the Oberlin Conservatory of Music at Oberlin College. He has also been a guest lecturer at the Eastman School of Music and Yale University. Floyd served as director of choral activities and voice instructor at the famed Interlochen Center for the Arts in Michigan and taught at the Interlochen Arts Academy. Floyd is a graduate of Furman, the Eastman School of Music, and the University of Michigan.
For more information about the event, contact the Furman University Music Department at 864-294-2086, or FurmanMusic@furman.edu.
Contact Us
Clinton Colmenares
News & Media Relations Director