The Paladin Rises
Georgia Tech has Buzz and Georgia has Uga. Images of Buzz, a cartoonish insect with a prominent stinger, and Uga, a grimacing bulldog with a spiked collar, are secondary symbols. They complement the schools' long-held letter emblems.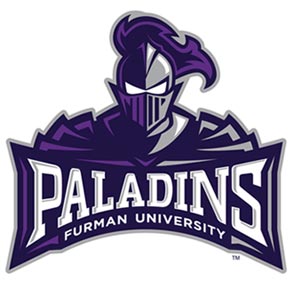 Now, Furman has its own secondary logo: an intimidating, fearsome Paladin with an intimidating gaze and flowing plume. The soon-to-be named armored knight was unveiled September 14 during the halftime of the Presbyterian College-Furman football game. It is the work of Robert Bradford, a member of the Class of 2013.
An art major and Greenville native, Bradford was commissioned last fall to develop a logo that would resonate with and excite Furman alumni and fans. Working with Art Professor and Department Chair Ross McClain, Bradford researched other knight mascots and drafted dozens of images before submitting three to a university panel to consider this spring.
Mike Arnold, associate athletic director and a member of the committee, said the Paladin will not replace the diamond F, the primary sports logo that was introduced in 1973. "This complements the diamond F," he says. "People feel passionately about the diamond F and would not think about changing it. This logo is edgy and vibrant. It is something that people can get more excited about. It is hard to get excited about a letter."
Arnold said secondary logos adorn university apparel, appear on athletic courts and are widely embraced by fans and alumni. In particular, he said, they appeal to younger fans and alumni. An on-campus naming contest is currently being held to name the knight. A moniker should be selected later this year.
Eventually, Arnold said, the mascot will appear at athletic contests and other university events.
Bradford, now a graphic artist with Erwin Penland, says he wanted his work to reflect power, strength and intimidation.
"I am not the biggest sports fan so I was a bit apprehensive about getting involved when Professor McClain asked me," Bradford says. "But now I am really glad I did and am very grateful for the opportunity."
For his part, McClain takes an academic perspective. "This epitomizes undergraduate research and engaged learning on so many levels," says McClain. "It's part of what makes a Furman education so distinctive."
And apparently this collaborative approach is well-rooted. The Diamond F was also developed by a Furman art student.
Contact Us
Clinton Colmenares
News & Media Relations Director