A welcome from Furman Parents Council
Dear Furman Parents,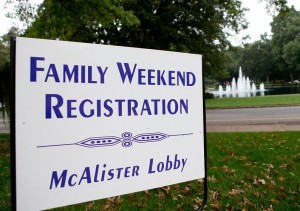 On behalf of the Parents Council, we would like to welcome the parents of the Class of 2017 and new transfer students to Furman! You have become members of a very special family…the Furman family.
Furman is a very special place where students, faculty, staff and parents work together to further your sons' and daughters' education, personal growth and success.
We are looking forward to an exciting year on campus with the opening of the Trone Student Center, renovated athletic facilities and enhanced academic and student programming.
What better way to spend a fall weekend than at Furman! Please join us for Family Weekend on October 4-6. Our beautiful campus will be filled with excitement and there will be lots of fun and informative activities for the entire family.
We hope you will support the Parents Fund or another designation of importance to you and your student. Your annual gift to Furman provides a very important source of funding to the university for maintaining and enhancing the high quality programs and facilities enjoyed by our students. A gift of any amount is important and appreciated.
We look forward to seeing familiar faces and meeting new friends this fall. We wish you and your students a most successful year at Furman.
Best regards,
Pam '83 and Scott '83 Christopher
Parents of Steven '14
Co-chairs of the Furman University Parents Council
Contact Us
Clinton Colmenares
News & Media Relations Director