Percussion Ensemble in concert April 13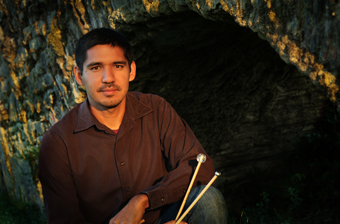 The Furman Percussion Ensemble will present its annual spring concert Saturday, April 13 at 8 p.m. in Daniel Recital Hall on the Furman campus.
The concert is open to the public. Tickets are $5 for adults and $3 for students.
The one-hour concert is directed by Furman faculty member Omar Carmenates and guest artist Sean Connors from the University of Wisconsin-Stevens Point and newest member of Chicago-based Third Coast Percussion.
Performing with the ensemble, Connors and Carmenates present a wide range of 20th and 21st century music including "Splendid Wood," a marimba sextet by Pulitzer Prize-winning composer Jennifer Higdon, and Kate Neal's "What Hath," a multi-media work blending lighting effects, vocal sounds, and physical gestures with "found" and concert percussion instruments.
The concert also features the debut of the Furman Steel Band, who will perform in the Daniel Recital Hall lobby after the concert.
Early concert goers may take participate in the "Percussion Petting Zoo" where audience members may tour the stage and play the 40+ instruments available. Carmenates and members of the Furman Percussion Ensemble will also be onstage to answer questions about the instruments.
For more information about the event, contact the Furman University Music Department at 864-294-2086, or FurmanMusic@furman.edu.
Contact Us
Clinton Colmenares
News & Media Relations Director