Computer lab scores more than hardware upgrades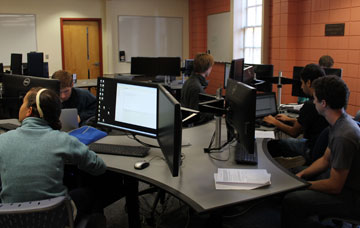 When it came time for a technology upgrade last summer in the computer lab (Riley 203), computer science department chair Kevin Treu and his colleagues seized the opportunity to totally revamp the space. Prior to the remodel, computers, lined up like neat rows of crops, made the confines difficult for professors and students to move about and collaborate. Ditching the traditional classroom look and feel, Treu, in concert with folks from his own department, IT and facilities, transformed the lab by installing six clusters of three-person workstations armed with the latest in computing technology.
Treu says the updated configuration lends itself to better group dynamics and creativity. Increasingly, students have been bringing in their own laptops which gave Treu and crew a chance to pare down the number of computers from 25 to 14. By reducing the numbers, the remodel squad fashioned a more sustainable workspace, and funneled resources into better computers (complete with dual, high-definition monitors) and peripherals, more jacks for laptops, and roomier, modular workstations that, when fully equipped, look more like jet consoles than humdrum desks. Whiteboards hanging on every wall provide a convenient place for ideas, making the lab even more team-friendly.
While planning for the new digs began in May 2012, Treu say the actual redo was accomplished in a three-day window, just in time for fall semester– pretty amazing when you consider the lab had to be rewired, recarpeted, and outfitted with all new equipment. Treu credits a whole posse of folks with a job well done – Steve Long and Tim Hightower from facilities, Van Bennett in IT, and lab manager Ted Riley. Just how well did they do? "It has been unanimously praised," says Treu. "We've invested in a better, collaborative learning environment, and we're really excited about it."
Contact Us
Clinton Colmenares
News & Media Relations Director