Jazz Ensemble to perform concert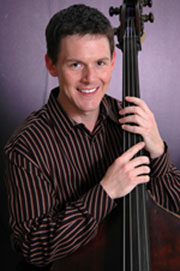 The Furman University Jazz Ensemble will perform a concert Friday, March 22 at 8 p.m. in Daniel Recital Hall.
The ensemble's season-closing concert is open to the public and features guest artist Erik Applegate, acoustic bass performer, composer, and bandleader from Colorado. Tickets are $5 for adults and $3 for students.
For the program, arrangements by Applegate, John Clayton, Cole Porter, Wayne Shorter and others will be performed.
A versatile composer and arranger, Applegate has written commissions for jazz artists, university jazz and classical ensembles, and professional chamber groups. He was awarded an Individual Artist Grant from the Colorado Council on the Arts for his "Walt Whitman Jazz Suite" and won a Down Beat Student Music Award for best original composition.
His first CD as a leader, "Red Skies," showcases Applegate's playing and songwriting in a quartet setting. Applegate can also be heard on Dana Landry's Grammy-nominated CD "Journey Home" (Summit Records), Don Aliquo's "Another Reply" (CAP Records), and Ken and Harry Watters' "Brothers 3" (Summit Records), all of which reached the top 30 on the Jazz Week U.S. airplay chart.
Applegate is professor of Jazz Studies at the University of Northern Colorado, where he was named the College of Performing and Visual Arts Scholar of the Year for 2009-10. He is active nationally as a clinician for high school and college jazz ensembles and serves on the faculties of jazz camps in Oregon, Wyoming, and Colorado.
For more information about Applegate, visit www.erikapplegate.com. For more information about the event, contact the Furman University Music Department at 864-294-2086, or email FurmanMusic@furman.edu.
Contact Us
Clinton Colmenares
News & Media Relations Director