Tocqueville lecture series continues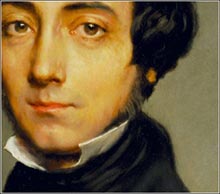 This year, the Department of Political Science and the Tocqueville Program embark on a thorough examination of Alexis de Tocqueville's masterpiece, Democracy in America (1835). With its piercing observations, uncanny predictions, and judicious judgments about all things American and democratic, Tocqueville's book has come to be regarded by many as the best book ever written on both democracy and America. But Democracy in America is much more than a book about politics – it contains nothing less than a comprehensive investigation of the effects of democracy on the human soul. This year's course and lecture series examines the lessons we still have to learn from Tocqueville about our country, our regime and ourselves.
The Tocqueville lecture series continues this afternoon with James W. Ceaser who presents "Tocqueville's World and Ours." Ceaser is the Harry F. Byrd Professor of Politics at the University of Virginia where he has taught since 1976. He has written several books on American politics and political thought including Liberal Democracy and Political Science, Designing a Polity: America's Constitution in Theory and Practice, and Nature and History in American Political Development. He has also written many articles for both scholarly and popular publications.
Ceaser has held visiting professorships at the University of Florence, the University of Basel, Oxford University, the University of Bordeaux, and the University of Rennes. He holds a Ph.D. from Harvard University.
His presentation takes place 4:30 p.m. Wednesday, Feb. 20 in Watkins Room of Trone Student Center. A reception follows his talk.
Contact Us
Clinton Colmenares
News & Media Relations Director