"In the Mood," coming to McAlister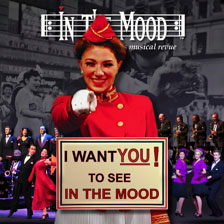 The big band, swing dance musical revue known as "In the Mood" will be performed Thursday, Jan. 31 at 7 p.m. in McAlister Auditorium on the Furman campus.
"In the Mood" is presented by Artbeat, Inc., a not-for-profit arts presenter. Tickets are $29 – $49 plus service charges and are available at Timmons Arena or Ticketmaster. Group ticket prices are also available.
"In the Mood" celebrates America's Greatest Generation through the music of Glenn Miller, Tommy Dorsey, Artie Shaw, Benny Goodman, Harry James, Erskine Hawkins, The Andrews Sisters, Frank Sinatra and other idols of the 1940s. The revue features authentic music arrangements, costumes and choreography which combine to recreate the big band era, showing the music's influence during the WWII years. The second act presents a tribute to those who fought in the war.
The 13-piece String of Pearls Big Band Orchestra, the "In the Mood" singers and swing dancers come together to perform more than 40 songs like "Chattanooga Choo Choo," "Boogie Woogie Bugle Boy (of Company B)," "In The Mood," "Tuxedo Junction," and "Sing, Sing, Sing" among others.
For more information about the event, go to www.artbeatshows.org. For ticket information, call the Timmons Arena Box Office at 864-294-3097, or visit www.timmonsarena.com. Tickets may also be purchased through Ticketmaster by calling 800-745-3000, or visit www.ticketmaster.com.
Contact Us
Clinton Colmenares
News & Media Relations Director