Cello concerts to be performed as part of Cellobration! @ Furman
SEPTEMBER 5, 2012
by Tina Underwood, Contributing Writer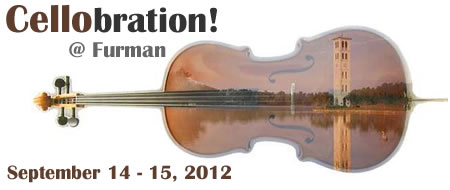 GREENVILLE, S.C.—Two cello concerts will be performed at Furman as part of the 33rd annual South Carolina Cello Choir Cellobration. The first will be performed by guest artists Wesley Baldwin and Lawrence Stomberg on Friday, Sept. 14 at 8 p.m. in Daniel Recital Hall. The second concert will be performed by the Cello Choir on Saturday, Sept. 15 at 5:30 p.m. in McAlister Auditorium.
The concert featuring Baldwin and Stomberg on Friday is $15 for adults and $5 for students. Saturday's concert by the Cello Choir is free and features the guest artists and more than 100 other cellists. Hosted by Furman violoncello professor Christopher Hutton, the concerts and Cellobration are presented by the South Carolina chapter of the American String Teachers Association, and sponsored by Furman University Music Department and the Fine Arts Center of Greenville.
Wesley Baldwin is known for his passionate performances and enthusiastic teaching. In the 2012–13 season he performs concertos in Minnesota, South Dakota, Virginia, and Tennessee, as well as recitals and chamber concerts throughout the United States, including solo recitals of the six Cello Suites by J.S. Bach. Baldwin has also performed as a solo and chamber musician at the Aspen, Cazenovia, Hot Springs, Ojai, Sandpoint, Mainly Mozart, May in Miami, Skaneateles, and Subtropics music festivals, and internationally in Italy, France, Monte Carlo, Spain, Austria, Brazil, Argentina, the United Kingdom, and Costa Rica. Baldwin serves as professor of cello at the University of Tennessee where he received the Chancellor's Award for Professional Promise.
Lawrence Stomberg enjoys a wide-ranging career as soloist, chamber musician, and
pedagogue. As a member of the acclaimed Serafin String Quartet, he performs at venues across the United States and will release his second CD recording with the quartet in 2012. Hailed in "Strings" magazine for his "style and elegance" and "lyrical expressiveness," Stomberg has given solo and chamber music performances throughout the United States, China, the United Kingdom, and South America. Stomberg served on the faculties at Truman State University in Missouri and Oklahoma State University before joining the music faculty at the University of Delaware in 2004 where he is associate professor of cello.
For more information, contact Christopher Hutton at christopher.hutton@furman.edu, or 864-294-2019. More information about Cellobration! may be found here.
Contact Us
Clinton Colmenares
News & Media Relations Director