Furman receives grant from Bank of America to weatherize homes
AUGUST 9, 2012
by Tina T. Underwood, Contributing Writer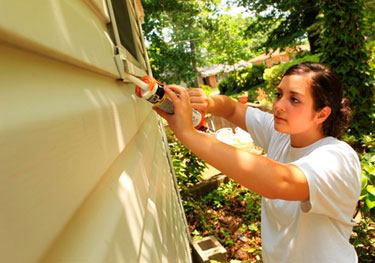 GREENVILLE, S.C.—The Community Conservation Corps at Furman has received a $15,000 grant from Bank of America Charitable Foundation to weatherize and rehabilitate low-income, privately-owned homes.
The focus of the weatherization and rehab efforts will be in neighborhoods near Furman along the Poinsett Highway corridor. The CCC will collaborate with the Greenville County Redevelopment Authority on the project, with GCRA leading home rehab and CCC performing weatherization.
The grant is part of a $22 million investment by Bank of America to build and rehab affordable housing, offer foreclosure prevention services and homeowner counseling, and provide other services intended to invigorate and rejuvenate neighborhoods. Nationally, the grants support more than 650 nonprofits in 34 states, impacting an estimated 31 million low-income individuals.
Housed in the David E. Shi Center for Sustainability, the CCC is coordinated by two members of the United Way of Greenville County's AmeriCorps team. Since 2010, the CCC has weatherized 31 homes.
With the goal of promoting financial savings through energy efficiency and education, the CCC collaborates with volunteers and Building Performance Institute-certified auditors and contractors. Together, they save residents at least 30 percent on energy bills by installing insulation and weather stripping, and performing safety checks on combustion appliances among other services. After energy efficiency measures are complete, the CCC gathers energy usage data and calculates energy and financial savings.
For more information about the grant, contact Katherine Kransteuber at the Shi Center for Sustainability, 864-294-3655, or katherine.kransteuber@furman.edu.
Contact Us
Clinton Colmenares
News & Media Relations Director