Furman grad Stubb in Wall Street Journal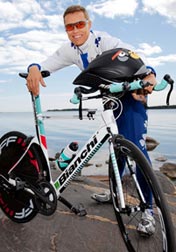 Tensions run high at meetings of the European Council, and the hotel bars around the European Quarter in Brussels are usually full of policy makers and diplomats unwinding after negotiations. But you won't find Alexander Stubb there. He is likely to be training for a triathlon instead.
The Wall Street Journal published an article about Stubb, a 1993 Furman graduate who serves as Minister for European Affairs and Foreign Trade of Finland.
Stubb has held his present position in the Finnish government since June 2011, and has been a member of the Finnish Parliament since March 2011.  He was Minister for Foreign Affairs of Finland from 2008 to 2011, and member of the European Parliament from 2004 to 2008.
Stubb graduated from Furman with a degree in political science, and earned a Ph.D. on international politics from the London School of Economics.  He also has an M.A. in political science from the College of Europe, Bruges, and a diploma on French language and society from the Sorbonne University in Paris.
Contact Us
Clinton Colmenares
News & Media Relations Director