Modern languages professor Cherry receives Founders Award
APRIL 17, 2012
by Tina T. Underwood, Media Relations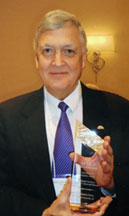 GREENVILLE, S.C.—Furman University modern languages professor Maurice Cherry has received the 2012 Founders Award from the Southern Conference on Language Teaching. The award was presented last month in Atlanta.
Cherry received the award for his leadership in SCOLT and for his long-term role as editor of "Dimension," the annual proceedings volume of the conference.
Earlier this year, Cherry received the Lifetime Achievement Award from the South Carolina Foreign Language Teachers Association.
Cherry began his teaching career at Furman in 1969 where he received his bachelor's. The Carey Shepard Crantford Endowed Professor of Modern Languages and Literatures, Cherry is completing his 40th year of teaching at Furman. He earned a master's at the University of South Carolina and doctorate at Northwestern University. His academic interests include Spanish medieval and Golden Age literature, Romance linguistics, methodology, and Latin American civilization.
For more information about the award, contact Maurice Cherry in Furman's modern languages department at 864-294-3174, or maurice.cherry@furman.edu.
Contact Us
Clinton Colmenares
News & Media Relations Director