News from around the
lake and beyond
Furman News
C-SPAN Campaign 2012 Bus tour comes to campus Wednesday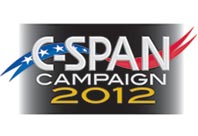 The C-SPAN Campaign 2012 Bus will be on the Furman campus Wednesday, Jan. 18 from 1:30 to 3 p.m. in front of Furman Hall.
The Campaign 2012 Bus is currently making its "Road to the White House" tour, named after C-SPAN's signature political program. The bus travels the country to promote and enhance C-SPAN's resources and political coverage by stopping at major events such as candidate debates and speeches in early primary states and meeting with voters on the campaign trail.
Visitors to the bus will learn about C-SPAN's resources via HD TVs, touch screen computers, laptops, and mobile devices.  That includes C-SPAN's Campaign 2012 website, in-depth public affairs event coverage, web offerings and the ways to connect with C-SPAN on the go, including Facebook, Twitter, Foursquare, YouTube, XM Radio, and iPhone and Blackberry apps.
Contact Us
Clinton Colmenares
News & Media Relations Director