Kudos to Furman's music program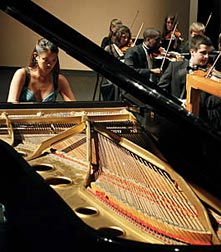 Furman has been recognized as one of the "Top Ten Music Colleges in the Nation" by the Education-Portal.com website.  Others mentioned on the list include The Juilliard School, Manhattan School of Music, Yale University, Berklee College of Music, and Oberlin College and Conservatory.
The site lists 10 of the U.S.'s best music colleges, where "skilled singers, songwriters and instrumentalists can often pursue undergraduate or graduate degrees in music or musical arts."  It mentions the Robert J. Maxwell Music Library as a distinctive feature of the Furman Music Department.
Education-Portal.com is a comprehensive, free and independent education resource on the Web.
Contact Us
Clinton Colmenares
News & Media Relations Director