Ninety-Six Press celebrates 20th anniversary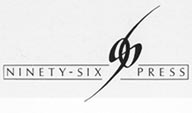 NOVEMBER 11, 2011
by Katie Love '12, Media Relations
GREENVILLE, S.C.–Ninety-Six Press will celebrate its 20th anniversary with a series of readings on the Furman campus Saturday, Nov. 19.
The readings, which are free and open to the public, will take place in the Blackwell Atrium of the James B. Duke Library from 9 a.m. to 4 p.m.
The program will start at 9 a.m. with informal conversations with the poets, a book signing, and a welcome by Janis M. Bandelin, Director of Libraries.  Following the opening, fourteen poets will share their work.
The day will feature readings by Vera Gomez, Joel McCollough, Terri McCord, Kimberly Jane Simms, Brian Slusher, William Aarnes, Claire Bateman, Wayne Cox, Karni Bhati, Starkey Flythe, Keller Cushing Freeman, Thomas L. Johnson, Marjory Heath Wentworth, and William Rogers.
The Ninety-Six Press was founded by Furman English professors Bill Rogers and Gill Allen in 1991 to publish poetry in South Carolina.
The event is sponsored by the Meta Eppler Gilpatrick Writers at Furman endowment, the James B. Duke Library, the South Carolina Poetry Archives and the Furman University English Department.
For more information, contact Furman English professor Gil Allen at 864-294-3152.
Contact Us
Clinton Colmenares
News & Media Relations Director