News from around the
lake and beyond
Furman News
Music Department hosting two organ programs in November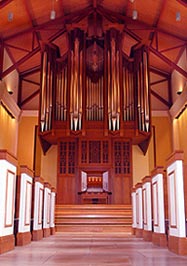 NOVEMBER 3, 2011
by Vince Moore, Media Relations Director
The Furman Music Department is sponsoring two organ programs during November.  Call the Music Department at 864-294-2086 for more information.
Organ Recital by TIMOTHY OLSEN, Monday, Nov. 7, 8 p.m., Daniel Chapel. Admission $15 / adults, $10 / seniors, $5 / students.
Timothy Olsen is the Kenan Professor of Organ at the North Carolina School of the Arts in Winston-Salem, N.C. First prize winner of the 2000 American Guild of Organists National Young Artists Competition in Organ Performance, Dr. Olsen received his Doctorate in Organ Performance from the Eastman School of Music, and performs extensively in the United States and abroad. His program at Furman, performed on the University's 42-stop, 2004 C.B. Fisk pipe organ, will encompass a wide variety of music from different historical periods and in contrasting styles. In honor of the bicentennial and centennial years of their births, major works by Franz Liszt (Prelude and Fugue on BACH) and Jehan Alain (Litanies) will be featured.
Lecture/Recital by SANDRA SODERLUND, Tuesday, Nov. 15, 7:30 p.m., Daniel Chapel. Admission is Free.
Sandra Soderlund is Professor of Organ at Mills College in California, and an internationally recognized expert in keyboard performance practice and the history of keyboard teaching. Her program at Furman is entitled "How Did They Play? How Did They Teach?", and will encompass highlights of the history of keyboard pedagogy from the Renaissance through the 20th century. She will perform musical excerpts on the C.B. Fisk organ, a Tyre harpsichord, and a Steinway grand piano.
Contact Us
Clinton Colmenares
News & Media Relations Director