WSPA-TV highlights Furman's sustainability efforts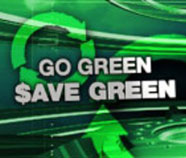 WSPA-TV featured Furman's sustainability efforts in its "Go Green" series.
The story by reporter Justin Cooper highlighted the university's "living machine" that uses natural processes to clean waste water on campus.  The story also referred to the "solar panels that help power this plant" and that "students also have electric car charging stations on campus and even a living garden, all part of the sustainability master plan."
Senior Brittany Lins was interviewed in the piece.
Furman is among the leaders in higher education for its wide-ranging efforts to promote environmental awareness.  During the past decade, Furman has incorporated sustainability in its university strategic plan, completed a sustainability master plan, founded the David E. Shi Center for Sustainability, built the first LEED-certified building in South Carolina and created an undergraduate major in Sustainability Science (the first of its kind at a liberal arts college).
Contact Us
Clinton Colmenares
News & Media Relations Director