Former president Shi gives talk at Winter Park Institute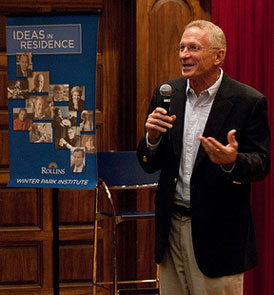 Former Furman president David Shi kicked off his six-month fellowship at Rollins College's Winter Park Institute earlier this week with a lecture about the supposed revival of thrift and simplicity in contemporary American society.
As a Presidential Fellow, Shi will give public lectures, organize a symposium on the surging popularity of sustainability in higher education, speak to classes, and continue work on two book projects.
Other Fellows joining the Institute this fall include writer and feminist activist Gloria Steinem, former Democratic Rep. Patricia Schroeder, and Pulitzer Prize-winning historian David McCullough.
Contact Us
Clinton Colmenares
News & Media Relations Director