News from around the
lake and beyond
Furman News
Bullard: health equality is key component of environmental justice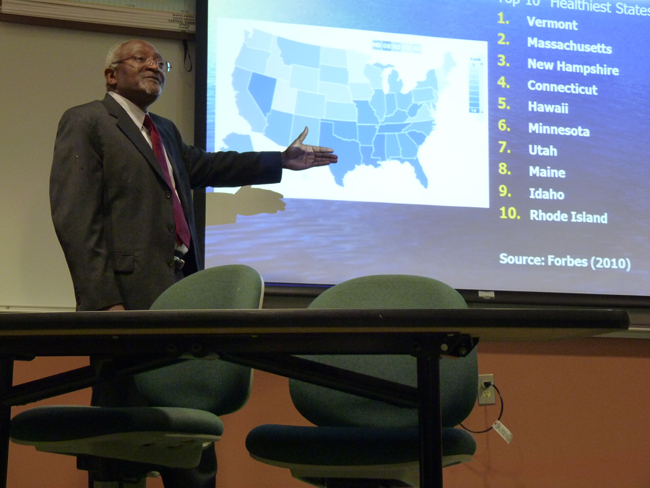 OCTOBER 20, 2011
by Dan Smith '13, Contributing Writer
"How many of you consider yourself environmentalists?" This was the first question asked by Robert D. Bullard in his hour-long talk Tuesday in a packed Johns Hall 101.
A few uncertain hands were raised.  And there were more than a few wry smiles.
In response to the underwhelming crowd reaction, the man widely known as the "father of environmental justice" went on to ask three simple questions:
Do you drink water?
Do you eat food?
Do you breathe air?
"If you answered yes to two out of those three questions," he said, "then you're an environmentalist."
The statement launched the environmental sociologist's lively and engaging discussion about environmental justice, which calls for a healthy environment and equal protection under the law for all citizens. A fundamental underpinning of environmental justice, Bullard said, is "growing smarter and healthier."
He spoke of the environment's hand in everything we do—it's "where we live, where we work, where we play, where we learn and where we worship".
He also touched on various cities that had taken steps to "grow smarter", and "grow greener", whether it was through their use of renewable energy sources or transportation systems that reduced air pollution.
Bullard, the author of 15 books and Dean of the Barbara Jordan-Mickey Leland School of Public Affairs at Texas Southern University, also explored chinks in the armor of the environmental movement. He spent close to twenty minutes discussing "food deserts", which describe the plight of areas of New Orleans East. In the aftermath of Hurricane Katrina, he said, a part of city where 80,000 African-Americans resided was served by a single grocery store.
He also explored the "geography of vulnerability", one that found an individual's health to be primarily based on his street address and zip code. Through these examples and many others, Bullard sought to illustrate the numerous faults in environmental policy, which he found to be most evident in the South.
He cited environmental racism frequently in his analyses of these various issues, pointing out the institutionalized influence of ethnicity on the decision-making process that often gave rise to these environmental inequities, primarily below the Mason-Dixon Line.
Bullard said that key to environmental justice was health.  A former professor at UCLA, UC-Berkeley, UC-Riverside and Clarke Atlanta University, he said "health was the central theme" of his books.
The lecture was sponsored by the David E. Shi Center for Sustainability.
Contact Us
Clinton Colmenares
News & Media Relations Director