Pochard recognized for recruitment efforts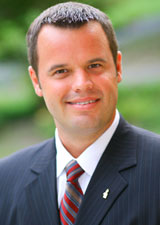 Brad Pochard, associate vice president of admission at Furman, has received a top award in recognition of the university's innovative approach to recruitment marketing.
TargetX, a leading student recruiting firm serving higher education, gave Pochard the X Award for leadership, innovation and success.  He is the third individual to receive the award.  The organization also honored Saint Leo University in Florida in the "institution" category.
"We're looking for schools and individuals who have embraced the remarkable shifts taking place in how students seek information about colleges and how colleges communicate with students," said TargetX CEO Brian Niles.
Contact Us
Clinton Colmenares
News & Media Relations Director